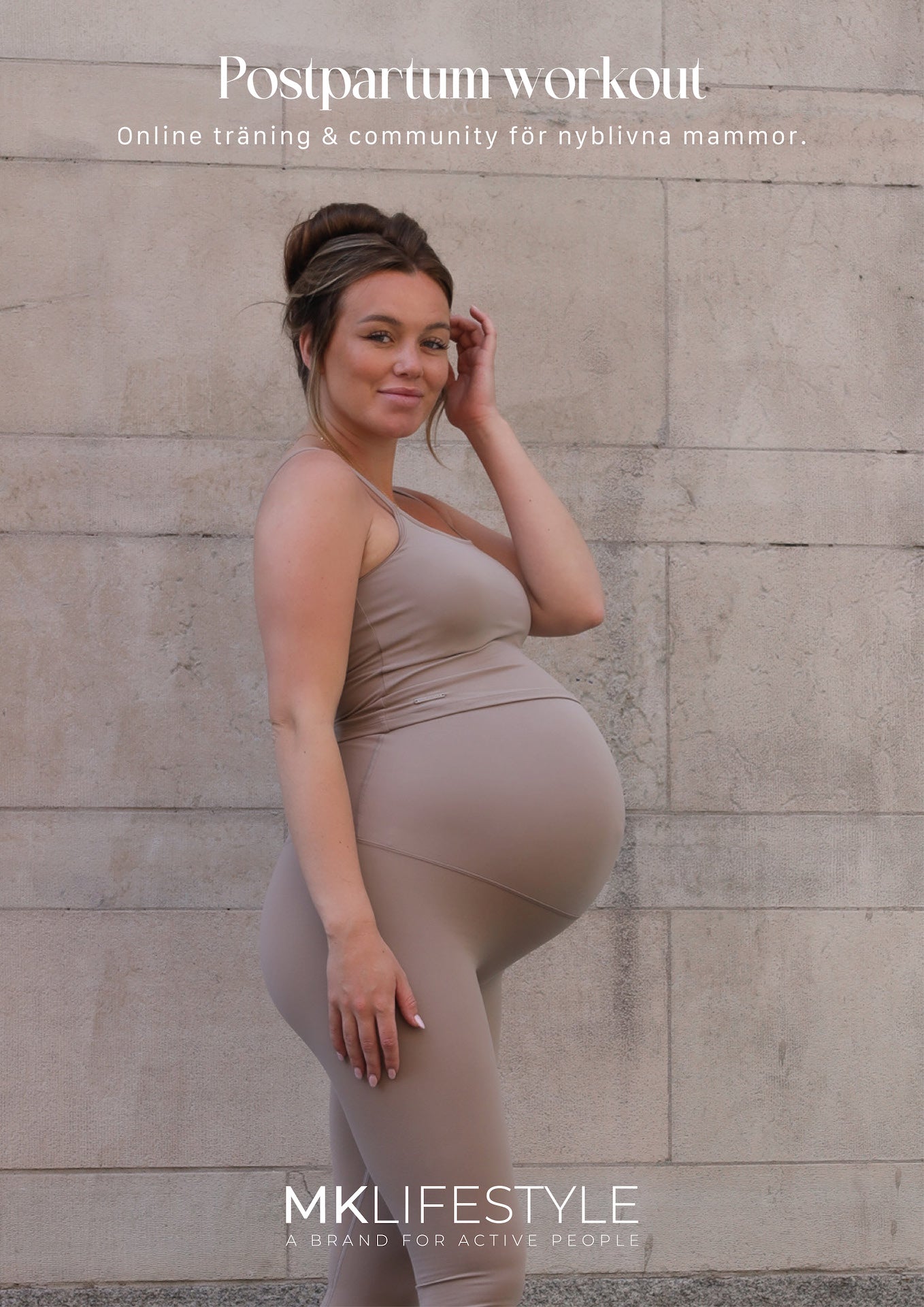 Postpartum online träning
Välkommen till mitt träningscommunity för nyblivna mammor!
Under fem veckor kommer jag att erbjuda en trygg och stödjande miljö för kvinnor som vill komma i form efter graviditet och förlossning.
I detta postpartum community kommer jag att publicera två träningspass i veckan. Det finns inga förutbestämda dagar utan du tränar när jag tränar. Har du inte möjlighet att träna dagen när passet kommer ut kan du alltid utföra passet i efterhand. 
Här handlar inte allt om träning, det erbjuds också en plattform för nyblivna mammor att dela sina erfarenheter, ställa frågor och få stöd från andra kvinnor som genomgår samma resa. Jag tror på kraften i att ha en stark och stöttande gemenskap runt sig och jag finns här för att hjälpa dig varje steg på vägen.
Här kan du uppnå dina mål, bygga nya vänskapsrelationer och dra nytta av min expertis och kunskap inom postpartum-träning. Jag ser fram emot att välkomna dig in i en gemenskap och hjälpa dig att återhämta dig och komma i form på ett säkert och effektivt sätt.
Sammanfattning:
Ca 30-45min pass två gånger i veckan
Dela din träningsresa och få stöd från andra nyblivna mammor.
Fokus på inre magmuskler, bäckenbotten, sätesmuskler och hållning.
Engångsbetalning - inga dolda avgifter. 
Secure transactions
Transactions are handled with bank-grade security.
Simple checkout
Our secure checkout is quick and easy to use.
Get in touch
Have questions? Get in touch with us at any time.
Frequently asked questions

Which program should I choose?

All training programs have an information section where you can read about it's purpose and whether the program is gym or home-based.

Every month we receive hundreds of emails about which program "suits me?" Unfortunately, we do not always have time to answer all questions within a reasonable time.

I'm a beginner, can I do any of your programs?

Of course, all training programs contain either image or video material, which makes it easy for you to understand the exercises. Training should be challenging but above all fun.

If you have bought a program that you think is too tough, adapt the training to your conditions. Reduce the number of repetitions / time required for the specific exercise and set a goal that you should gradually increase to reach.

Do you offer personalized programs?

Unfortunately, Mimmi does not offer individualized programs. The programs available are designed to suit the majority of a variety of aspects. Weight loss, rehabilitation, muscle building and slimming.

How do I get access to my purchased program?

Once you've made your payment, your program will appear as a downloadable PDF file to the email address you provided at the time of purchase.

Do I pay a monthly subscription for your programs?

My training programs does not includes any hidden fees, you pay once and keep your program forever.

Does your diet plans include vegetarian options?

Yes, my programs offer vegetarian options.

This will also be informed in the information section of the specific program.

Can any of your programs be done from home?

Yes, plenty of my workouts can be done from home.

in the respective program information you can see if the training program is gym- or home based.

What can the diet plan look like?

For example. 60 days challenge, the program includes four phases (one phase = 15 days) where you get two different breakfast options, suggestions for protein, carbohydrates, salad and sauce with measurements and procedures for cooking. Up to 5 different suggestions for snacks to be eaten twice a day.
Delivery

Direct delivery

Once you've made your payment, your program will appear as a downloadable PDF file to the email address you provided at the time of purchase.

Get in touch

Never hesitate to contact us!
email us at support@mklifestyle.se for all general questions.
Mimmi Kapell
I'm Mimmi Kapell, founder of MKLIFESTYLE
Since 2014 I've been a personal trainer focused on functional strength training and the beneficial effects of a balanced diet. Today I work full time to inspire and push women to improve their health and fitness. I run one of Stockholm's most personal training studios where amazing women get together, become stronger and more confident through sustainable training.
My brand advocates strong women who consist of a community of thousands of active women, all with a common goal of living a balanced and healthy life.